America – the land of the free, the brave and the obese! But it takes just one USA holiday to make sense of it all. Food in USA is a big deal, it is an important part of who they are. Much like the people, the culture and the values, the food vastly varies from coast to coast as well. It also stands as a history lesson, when the European's first landed, they brought with them European cooking styles and ingredients such as spices and herbs. This mixed with the existing Native American's way of life and gave birth to American Cuisine. Depending on the regions within the country, the cuisines grew independent of one another. Add to that the influx of immigrants that brought their way of life with them and inculcated it into an existing culture. An important thing to remember when eating around during your USA Tour is what the Tipping in USA is like. If you should? What is expected? How much of it? How to hand it over? They say when in Rome, do as the Romans do. So on your Family Holiday in USA, thou shall tip!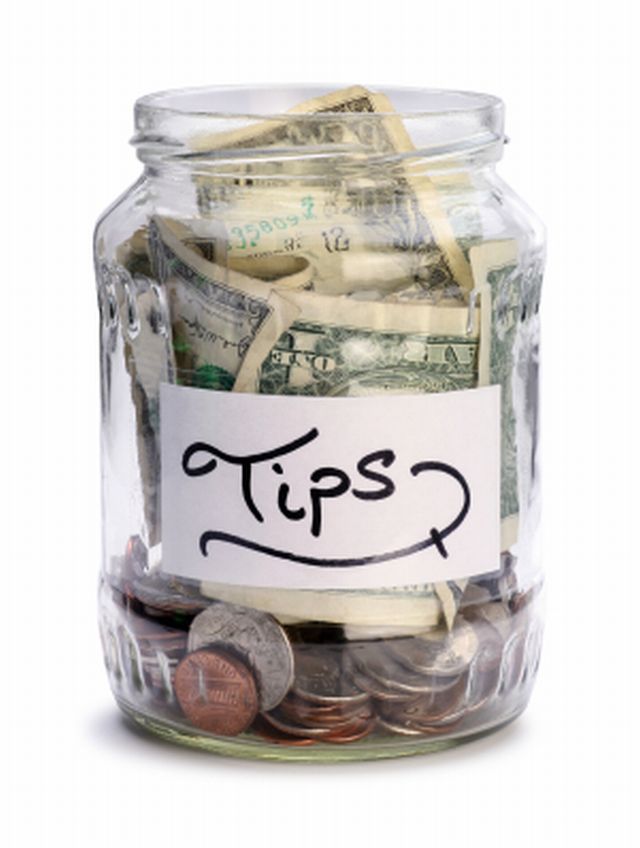 First thing first, do you have to tip? Well technically, no. If the service took forever, you were spoken to rudely and the food was awful, then you don't. But there is a fine line, if the entire experience was 'not bad' but 'okay', then that is enough reason to be tipping someone. So by rule of thumb, only the exceptionally bad experiences don't get tipped, rest everything does. It's a good idea to always keep change, your best bet is to keep around a few one dollar notes at all times. Don't feel shy to ask the person you're tipping for change as well. They will be happy to provide it to you.
The usual understanding for tipping is 15 to 20 percent of your total bill. Don't want to do the math? Google it on the spot! Another trick is to double the 8 percent sales tax amount that is shown on the bill. The more expensive or fancy the restaurant – the higher the percentage of tip should be. Which brings us to the next point, in certain over the counter foods like McDonalds or KFC, avoiding a tip is okay.  Even employees of supermarkets don't expect a tip out of you. Many places do have a tipping jar but that doesn't mean it will be rude to avoid it. Situations where it is important to tip would be taxis, bars or carrying of bags.
Now that you know what to do after the meal, it's time to get to the meal itself. It really depends on where your USA Tour from India takes you:
Food on the East Coast cuisine
It should come as no surprise that the Eastern Seaboard is known for the seafood it has to offer. Each state along the line has a dish it is known for. These dishes have significant historical backgrounds and reasons for existing, so make sure to ask.  From sumptuous desserts to fresh seafood dishes, there will be someone for everyone's tastes. Head to Maine to have a bite of the lobster roll, which is a sandwich filled with butter soaked lobster meat. Find yourself in Massachusetts getting drunk and swimming in a bowl of clam chowder. This delicious comfort food includes clams, diced potatoes, onions, celery, and parsley as a garnish. The multicultural hotpot that is Philadelphia can serve you up some quick cheesesteak, which sliced beef and melted cheese on an Italian roll. Try Rode Island's official drink 'Coffee milk' along with a New York City style Pizza. The options on the east coast are endless.
Food on the West Coast cuisine
Put the West vs East debate to end by trying both sides and deciding for yourself. The west has everything on its fingertips, perfect weather for vineyards and pastured animals that provide meats, cheese, milk and eggs. Start your Adventure Holiday in USA by getting some deep – dish pizza in Chicago, it is said to have been originated from here. In Omaha, one must try the Reuben sandwich which originated there. The Reuban is an American hot sandwich composed of corned beef, Swiss cheese, sauerkraut, and Russian dressing, grilled between slices of rye bread. But one can't leave the west coast without heading to California and the food choices there are endless. Start your day with a California-style pizza just because it has an egg on it, so technically its breakfast. Spend your afternoon at a local joint and enjoy California's answer to sushi, the California Roll. Too full? End your day with a simple cream of Artichoke Soup. In one day, you've tasted the depths of California. More of a sweet tooth? Portland's Maple Bacon Doughnuts at Voodoo doughnuts are world famous, be sure to get in line.
Southern Cuisine
Southern food is big quantities and lots of comfort. Influenced by African, English, Scottish, Irish, French, Spanish, and Native American cuisines, this soul warming food is a true mix of cultures. Stuff yourself with some Fried chicken or Ham Hocks in Jackson. Eat a plateful of gumbo, red beans and rice with hot sausage in New Orleans at Dooky Chase. Established in 1941, the likes of Martin Luther King, Jr., Quincy Jones, Ray Charles, Duke Ellington, Count Basie, and Nat King Cole have dined amongst its walls. Gobble down some barbecue ribs at Charleston or meatloaf in Georgia. Don't forget to add a huge dollop of mashed potatoes wherever you go.
New Mexican Cuisine
New Mexican cuisine is the regional cuisine which is a fusion of Pueblo Native American with Hispano Spanish and Mexican cuisine. The food's defining ingredient is the New Mexico Chile.  Most USA Tour Packages miss this yummy fusion cuisine. So you end up missing on Albóndigas, a meatball soup traditionally made with beef broth, ground pork or beef, vegetables and rice. Or Chicharrones, which are pork rinds, deep-fried pieces of pig skin usually including a layer of meat. One almost feels like they've been thrown into a whole other country whilst still being in America. Dip some American Doritos in some Chile con Queso (Chile and melted cheese mixed together into a dip.) and celebrate the verity that is the United States of America!

Comments