Saswati is an un[traveller] and was a part of one of our group departure trips to Ladakh, in June 2018. Here is her story on how she got Leh'D.
A woman taking a solo trip is not just about being a flag post on the road to women empowerment. It transcends the barrier of a trip for it is an experience. Like many who dream about soaking in the incredible sights, sounds, and feel of that arid climate and unforgiving terrain, I finally took the plunge this year. Following are some of the chronicles that I hope would not only inspire others to take up solo traveling but would also provide some insights into this barren paradise.
Well, making the decision was sure not easy. With a small child, I just had my husband to fall back upon. Given that my daughter was having her summer vacations and my husband could take her to the office, some of the guilt feelings were assuaged.
Planning the trip
The first thing that I did was to zero down on the places I wanted to cover. Given the fact that it was my first time alone, I decided to take it easy. The ideal way would have been to take the Manali-Leh route, moving on to Nubra Valley, Pangong, Kargil and then culminating the journey in Srinagar. Since I was short on time, I decided to fly into Leh and undertake the rest of journey in a hired car and then fly back from Leh. So here's my itinerary for the trip.
Day 1 (03/06/2018): I traveled from New Delhi to Leh with Jet Airways(9W 611). It was scheduled to depart at 5.20am but finally took off only by 6.30 am. The flying time is approx. 1 hr 15 mins. Now, it is natural to be sleepy and groggy-eyed so early in the morning, but all will be lost if you fall asleep during the flight. Strong mountain winds during the day make landings difficult and hence the early flight. I suggest you reach the airport well in advance to grab a window seat(I didn't have to do that because I had spent the night in the airport as I had flown in from Lucknow the night before). Keep your phone handy as you wouldn't like to miss the sights.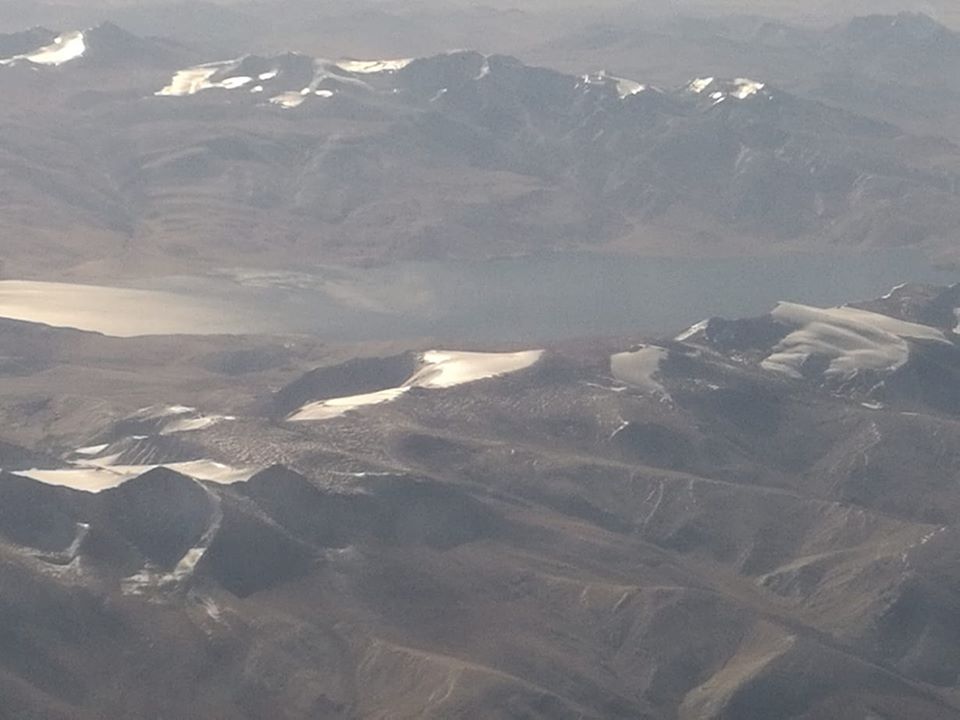 Aerial view of the mountains
As my flight left Delhi far behind, I could see the majestic mountains raising their heads. I was instantly mesmerized. There were never-ending mountain ranges and no two looked the same. Some looked like 'brownie' mountains, some with a sprinkling of sugar dust and others seemed as if covered with a dollop of vanilla ice cream. I had the feeling that the view looked like the moon's surface and I was about to make a lunar landing.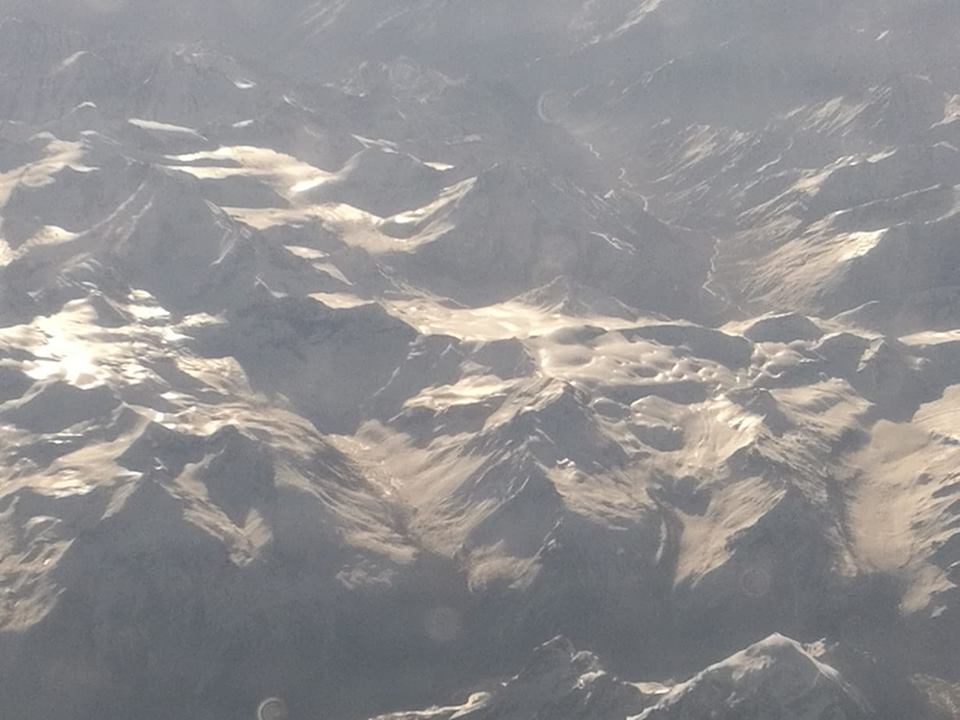 View from the top looks like the lunar surface
The Leh airport is called Kushok Bakula Rimpoche. The runway is situated amidst mountains and it probably takes a good amount of training for the pilots to make a landing in such conditions. It is a defence airport and hence photography is strictly prohibited.
The first thing that I felt after deplaning was that my breathing was heavy and I had to make an effort. It is advisable to walk very slowly after you get down from the plane. The high altitudes make oxygen scarce and hence could result in dizziness and/or nausea. I was staying at Hotel Kushu Ladakh(Upper Tukcha Main Road, walking distance from the main market) and they had arranged for me to be picked up from the airport. I wasn't feeling any of the symptoms that I was warned about. And that was my biggest mistake.
After resting for a couple of hours, I decided to visit some of the nearby places. Along with another traveller, we headed to the famous Magnetic Hill, where vehicles move onwards by themselves by the virtue of the strong magnetic forces there.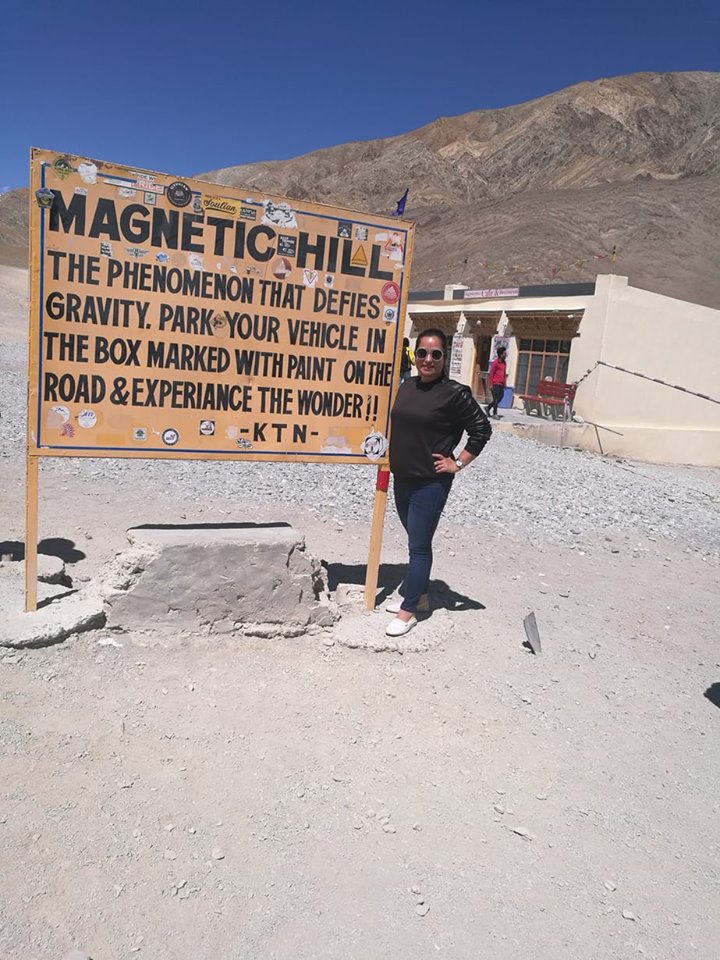 The quintessential visit to Magnetic Hill
After that, we went to see 'Sangam'- the confluence of Zanskaar and Indus rivers. The Zanskaar river water looked muddy whereas the Indus' was a clear emerald colour and you could clearly see the meeting point. After crossing India, both the rivers flow into China. We also went to see the 10th-century Alchi monastery, set in beautiful and calm surroundings. Of all the monasteries we visited during the trip, this one remains my favourite. On our way back to the hotel, we saw the Shanti Stupa and the Leh Palace. Leh Palace is nine stories high and is visible from the main market.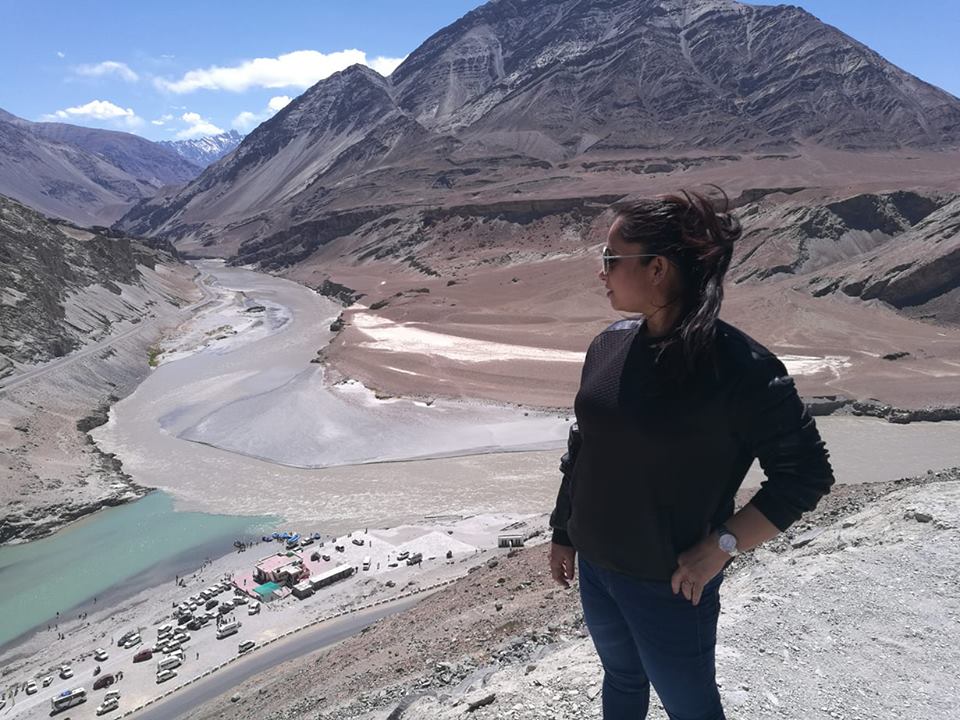 Back in the hotel, I was overcome with bouts of nausea and stomach bloating. Moral of the story- take it easy on the first day and take plenty of rest.
Day 2(04/06/18): I decided to start my day with a light breakfast with tea and a bowl of fruits. Make sure to carry a water bottle as drinking lots of water is the easiest way to combat nausea due to lack of oxygen.
Our first stop was the Shey Monastery which is famous for the 12-metre tall statue of Shakyamuni Buddha that occupies three floors. Take some time to soak in the beautiful scenery around the complex, with lush Safeda trees all around.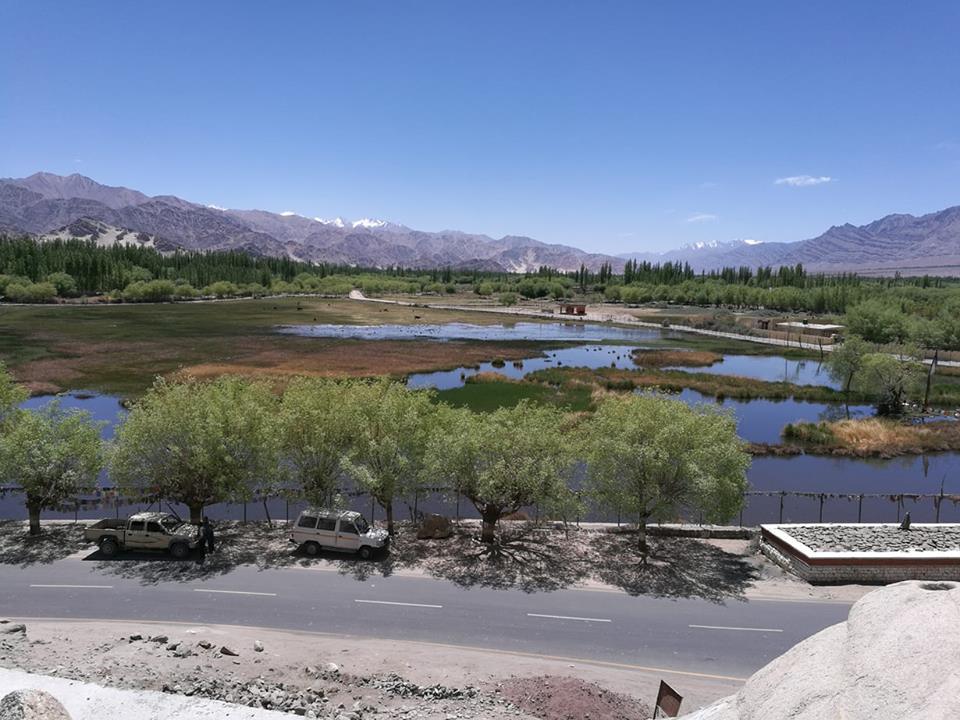 The scenery in front of Shey Monastery
Just a kilometre ahead is the Druk White Lotus School, now made famous by Aamir Khan in his movie '3 Idiots'. The high point of this school is the use of sustainable local building material to withstand the region's harsh climate.
Next was the Thiksey monastery which is one of Leh's largest. It is a long way to the top so be sure to take regular stops and drink plenty of water. I could see many people carrying portable oxygen cylinders.
The last pit stop was the Hemis monastery, approx. 25 km from Thiksey and is spread over a huge area. This is where the famous Hemis festival takes place in June-July(make a note of the dates beforehand if you are keen). The complex also has a museum that encapsulates the life and times of the people in the region through the ages. The lunch hour is from 1 pm- 2pm, so plan accordingly. I was hungry by then and decided to have lunch at one of the restaurants at the foothill of the monastery. My lunch consisted of Momos and Thukpa, which was quite filling. It was a long day and I was asleep as soon as I hit the bed.
Day 3(05/06/2018): After a quick and light breakfast, we set forth to Nubra Valley, via Khardung La. We left quite late(around 9.30) and thus we had to encounter a lot of traffic on our way to Khardung La. So, leaving early is the key. Drinking so much water was making me pee often and there were no rest stops. I had to pee behind a rock. Khardung La, contrary to local claims and misinformation is NOT the highest motorable pass in the world, but definitely one of the highest. It was choc-a-bloc with tourists, all happy to be there and relishing mounds of Maggi.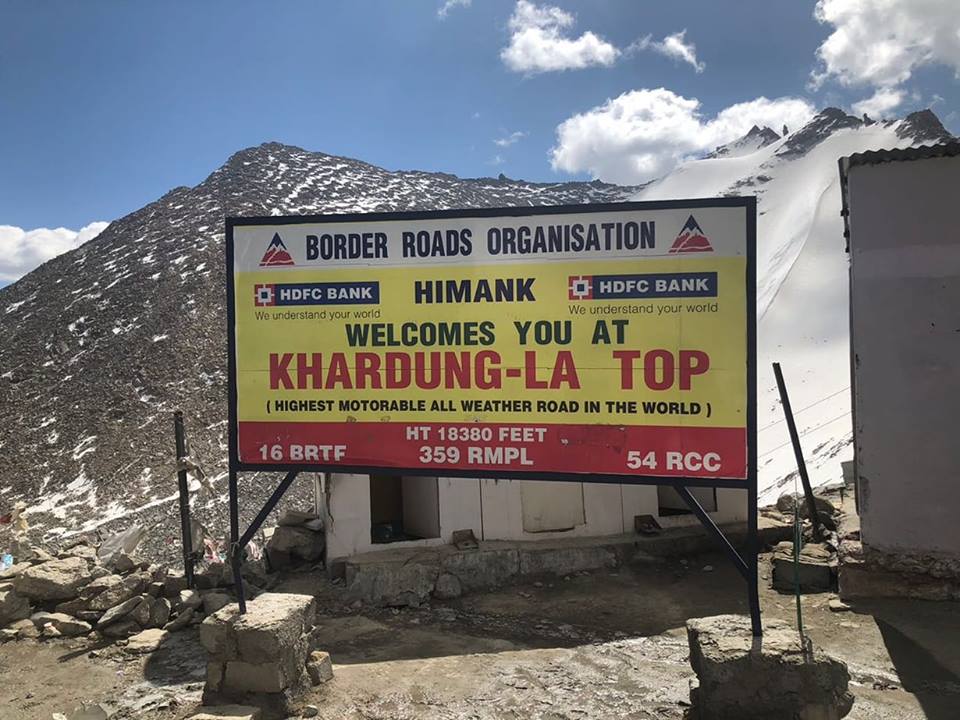 The road from Khardung La to Nubra was relatively smoother. There were even roads with the most stunning mountain range looking over. It was almost 4 pm when we reached Nubra Valley(we skipped the Diskit Monastery visit). We were put up in 'Nubra Summer Camp'. We were given well-furnished tents with all modern amenities. Nubra is also home to 'Turtuk' village, bordering Pakistan. I couldn't make it but if possible, it is definitely worth a visit. The facial features of these Balti-speaking people are strikingly different from those from rest of the region. The villagers have mixed ancestry given the fact that it was an important area of the Silk Route.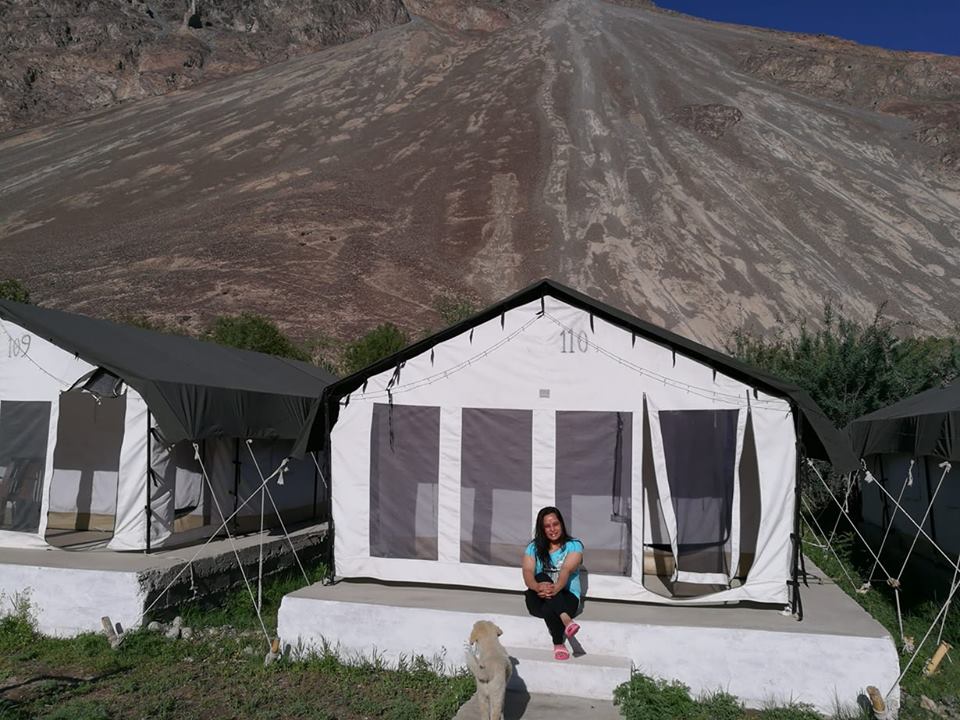 When in Nubra, try not to miss the Hunder sand dunes, with miles and miles of sloping sand dunes. You can either have the double-humped Bactrian camel ride or just sit down and relax with a cup of tea. The twilight rendered the whole area with a golden hue, a perfect way to bid goodbye to the setting sun.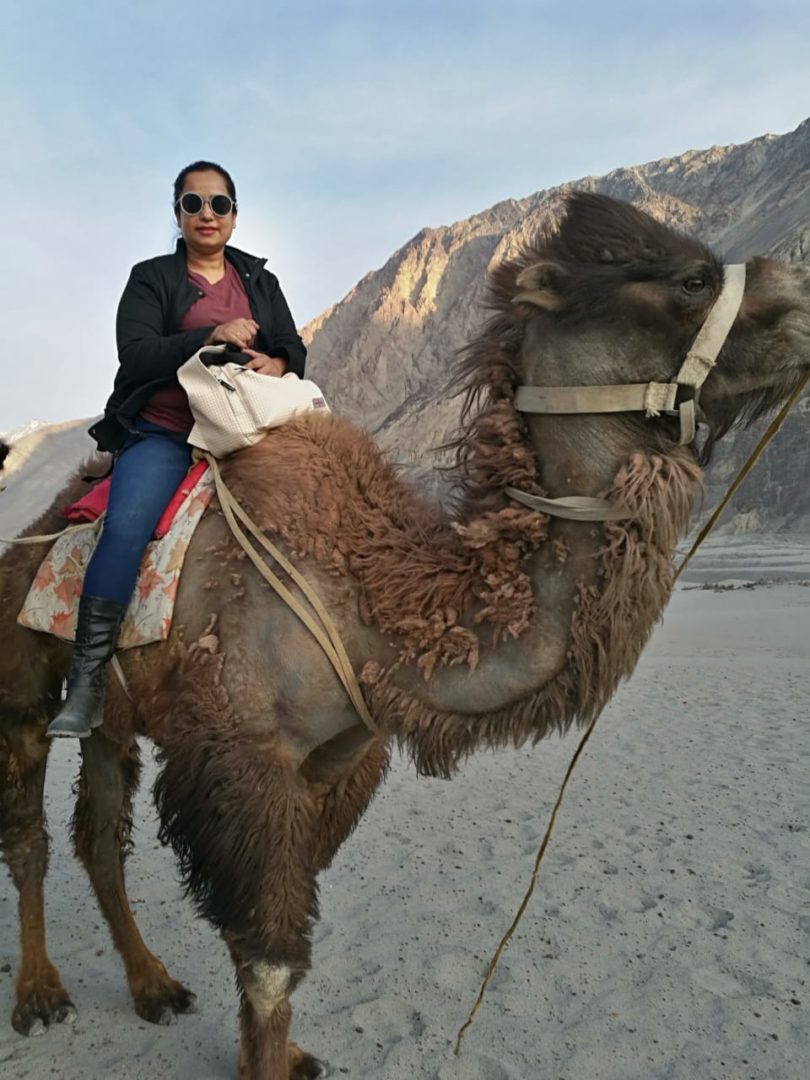 Day 4(06/06/18): With lessons learned, we started early towards Pangong lake. It was the day I was most looking forward to. The drive was magical and it took us almost 6 hours for us to reach there via the steep and dangerous Chang La Pass. It is advisable not to spend more than 20-25 minutes at this pass as it gets difficult to breathe.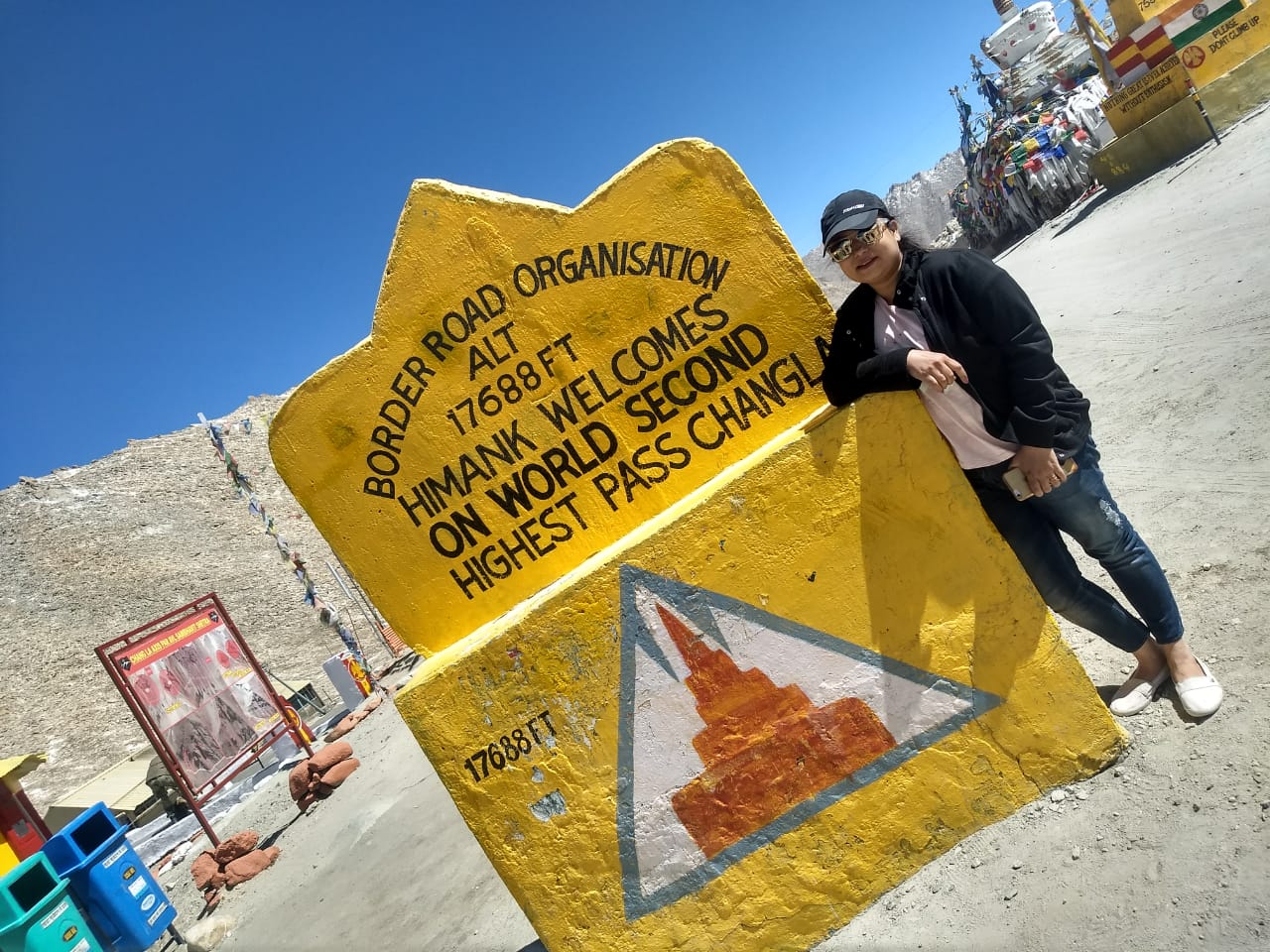 As we were approaching the lake site, nestled between two mountains I caught the first glimpse of the sapphire coloured gem. It was the most beautiful shade of blue I had ever seen. I asked the taxi driver to stop and ran towards the lake. I couldn't wait to dip my feet. But no sooner had I done that than I had to come out as the water was freezing cold. I sat on a rock and soaked in the most stunning landscape. Snow-capped mountains, the expanse of the blue waters and the cool breeze, this is what heaven must feel like. Our campsite was called Mystic Pangong. The tents were comfortable with attached bathrooms. Do not miss the sun going down, the whole lake undergoes a transformation in terms of colours. You can either sit outside your tent with howling winds keeping you company or you can spend your time star-gazing, which seem just within reach. Nights can be quite chilly, so make sure you wear woollen socks and a heavy pullover.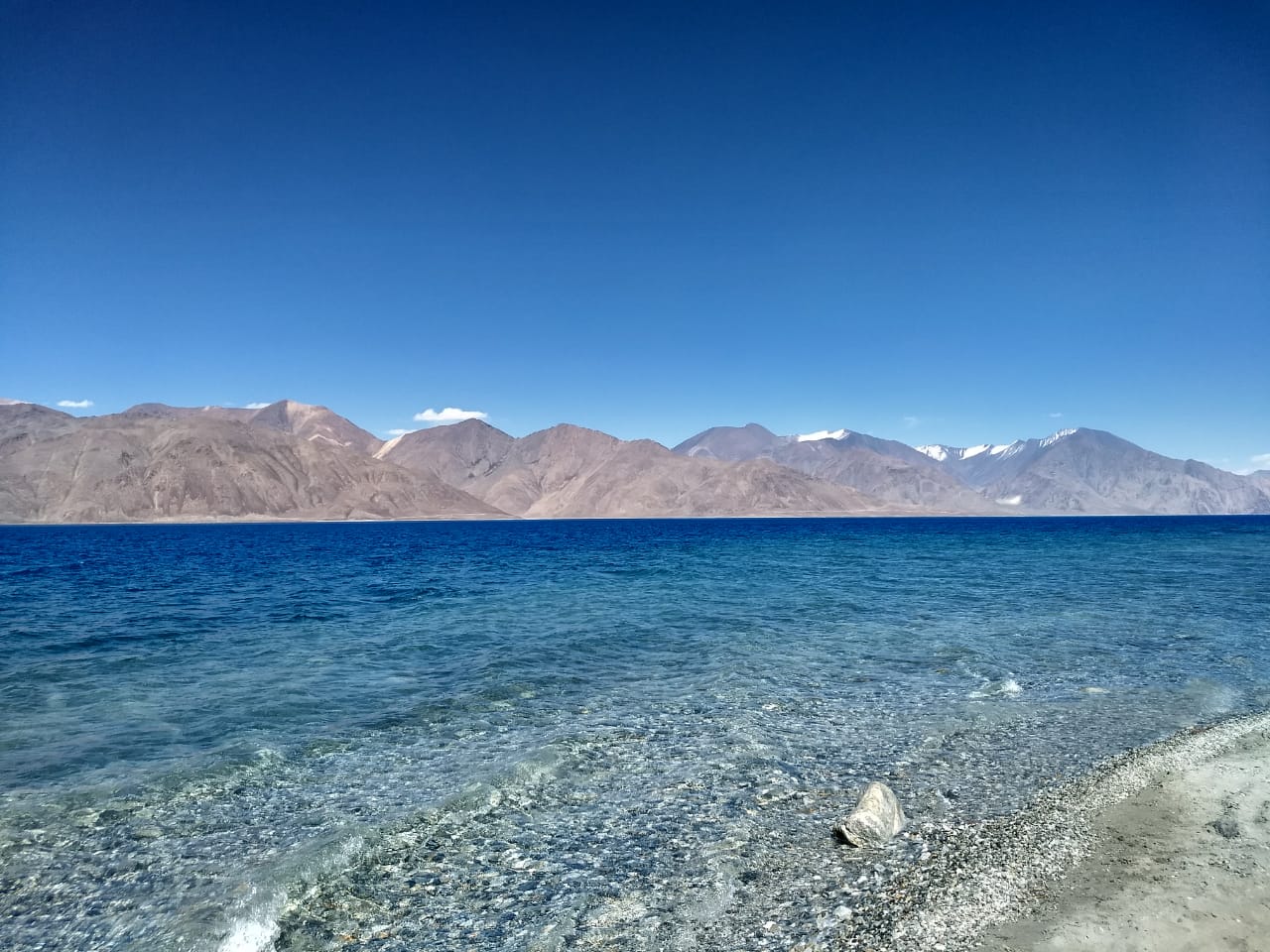 Day 5(07/06/18): With a heavy heart, we started the journey back to Leh at 7. The roads were non-existent in some stretches but we had a skillful driver. Around 11.30 am, we reached Leh. We rested for some time before visiting the market in the evening. We bought t-shirts, knick-knacks, souvenirs for our loved ones. And yes, we also got dried apricots as fresh ones were not in season.
Day 6(08/06/08): Never had I felt so emotional about leaving a place. Silently, I thanked the Gods for creating such a masterpiece. Leaving behind the wonderful people of Ladakh, the untouched simplicity of life in the mountains, the various hues during the day and most importantly, the best experience I ever had in my life, I boarded the flight back to Delhi.
Here are a few pointers that can help if you are planning a Ladakhi sojourn.
Best time to visit: April to July
Things to carry: Light Woollen pullover(can be carried in your backpack), 1 heavy jacket, Full sleeved cotton T-shirts(I wore half sleeved ones), comfortable shoes/sneakers, cotton socks, woollen socks, gloves and cap(might need if you are visiting Pangong. I used only the woollen socks), common medicines for minor cuts and bruises, stomach aches and headaches, digestive chewable tablets( I needed them a lot), carry Diamox tablets for mountain sickness, mints(if you are feeling nauseous, mints really help), a water bottle, a map, emergency contact numbers, a shawl(mine came in handy when I had to pee in the open), a cap, anti-glare sunglasses, SPF 50 sunscreen, good old Vaseline petroleum jelly(better than any lip balm for chapped lips), power bank, and wet wipes. No need to carry a lot of homemade snacks as there are plenty of shacks on the way.
Things to remember:
Only Airtel postpaid and BSNL work in Leh, in Nubra and Pangong only BSNL works intermittently. Hotels in Leh and Nubra generally have wifi, so you can intimate your loved ones.
Start as early as possible. As the day progresses, the snow melts which turn into streams that flow over the roads, which can make driving difficult.
Keep your meals as light as possible. This will prevent nausea and stomach-bloating to a great extent.
Respect the people and their culture. Remember, they are welcoming us into their land, so be as kind as possible.
Keep your whereabouts known to your coordinator at all times.
Are you ready to embark on the journey of a lifetime?
Here is a link to Saswati's original blog post – https://sashwatiborthakurdixit.wordpress.com/2018/06/27/how-i-got-lehd/
Do you want to know what an ideal itinerary to Ladakh is like? Read here
Comments