un[travel] to the less explored Tso Moriri Lake at 4595 metres above MSL, away from crowded high-altitude lakes with blinding flashlights. Past green marshland with streams criss-crossing to the lake beyond. The eight hours it takes to get here from Leh are worth every minute as your vision clears to see the serene blue Tso Moriri Lake with mountains beyond. Spectacular reflections of surrounding mountains and white clouds set against the clear blue sky make Tso Moriri seem like a giant mirror and one of the not-to-miss places to visit in Ladakh.
What's so special about Tso Moriri?
Largest Lake: Tso Moriri is the largest high altitude lake lying entirely within India.
Wildlife Sightings: The area around the lake is rich in wildlife. Wild ass (Kiang), marmots, hare, bharal and cranes can be spotted here. It is the only known breeding ground in India for the Bar-headed geese.
 Very Few Tourists: You can enjoy the beauty of the Tso Moriri Lake in peace as

very few tourists ever set foot here.

Owing to the distance and the popularity of the

Pangong Tso

, the Tso Moriri is quite often overlooked which is definitely a boon in disguise.
Tso Kar: While on your way to the Tso Moriri Lake, you can also witness the smaller but equally picturesque Tso Kar.
Where exactly is Tso Moriri?
Tso Moriri Lake is located in the Changthang Plateau of Jammu and Kashmir. It is located around 220 kilometres from Leh and can take you anything between 6-8 hours to make a one-way trip. This route takes you through Chang La and Chumthang.
You can also take a direct route from Pangong Tso Lake if you are not planning to come back to Leh and instead of planning to exit to Manali. This 260-kilometre long route takes you through Chusul and Loma. Quite deserted, this route has some smaller lakes along the way with breathtaking scenery around them.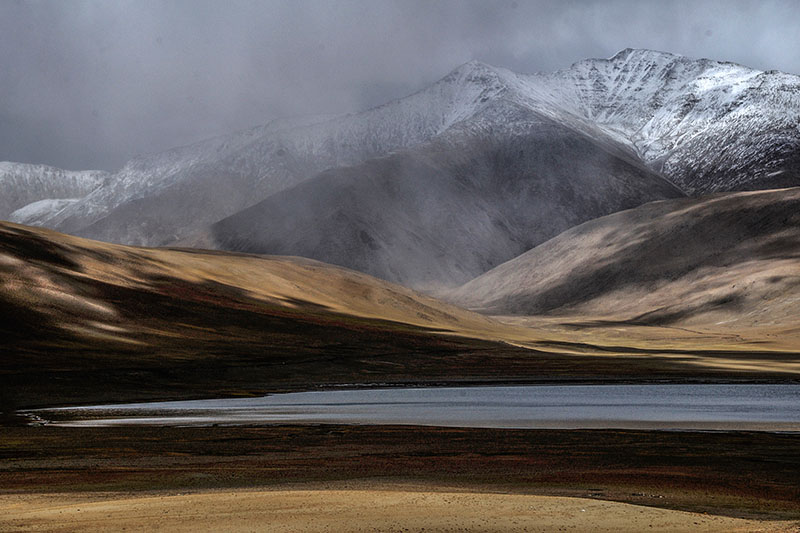 When to visit Tso Moriri?
Tso Moriri is best experienced in the Ladakhi summers. June until August is the peak season and also the best season if you want to do some hiking or trekking around the area. Though Ladakh is ripe for trekking at this time of the year, around here you'll come across very few people. September and early October the handful tourists are nowhere to be seen and the accommodation around the lake starts packing up. The only hotels around Tso Moriri that time would be the homestays. Winters are harsh and only accommodations you would find would be in the villages of Karzok or Chumathang.
Book trips

for the rest of India here.
Comments