Zillions of superlatives put together won't exactly define the beauty called Rajasthan. Located in northwestern part of India, Rajasthan is a geographically diverse region that can fascinate you every moment. See colour runs riot in the land of the Kings, battle-scarred forts, places of grandeur steeped in spirituality and history.
A journey to this remarkable place is on every traveller's wish list. But it needs to be planned with care and imagination.
This is some place that truly depicts the composite essence of India and its celebration of life itself. Walk through the ancient alleyways; treat your senses with its celebrated art forms and tempting flavoursome food.
But the most enticing part of Rajasthan is the traditional lifestyle, festivity and welcoming people, who always carry a bright, wide smile on their face.
A journey to this remarkable place is on every traveller's wish list. But it needs to be planned with care and imagination.
The climate of Rajasthan can be hot and scorching during the summers. There is nothing like best time to visit Rajasthan, than the months of Octobers and March, when the weather is often cool and pleasant. The chilled evenings these times means an opportunity to sit beside bonfires, sample local food and enjoy traditional arts forms.
Your Rajasthan experience is incomplete without its festivals, which truly make the place it is. Some of the interesting fairs and festivals that take place here include Gangaur Festival, Desert Festival, Teej Fair, Kite Festival, Summer Festival, Elephant Festival, Braj Festival, Kailadevi Fair, Jodhpur Folk Festival etc.
Rajasthan makes for wonderful destination for a short touring holiday for any visitor. A week-long tour is ideal for any first timer to Rajasthan.
Discover the true essence of India that is vibrant, spiritual, outgoing and perpetually fascinating that cover State's Capital Jaipur, Marvelous Ajmer, Holy City of Pushkar, Blue City Jodhpur and desert city of Bikaner. Move at easy pace avoiding fort-and-temple glut and escape the tourist hordes.
Days 1 and 2 – Jaipur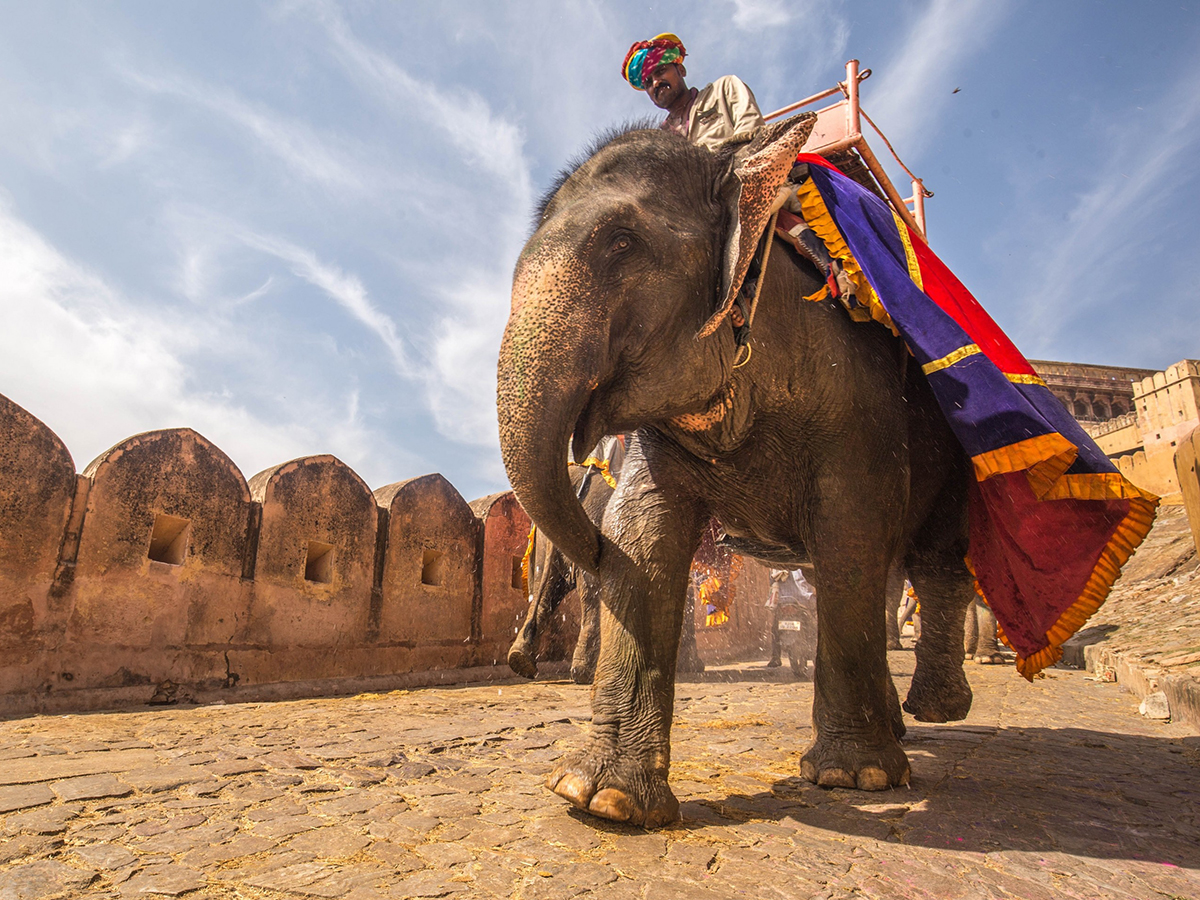 From the impressive architectures to exquisite handicrafts, the imperial city of Jaipur is gonna surprise you every moment. Packed with history, art and culture, this princely state is a treasure trove of some finest marvels such as City Palace, Jantar Mantar, Hawa Mahal and Museum.
You can also enjoy an elephant ride at the gates of Amber Fort. You will be able to witness the luxury of the Indian royalty, temples and havelis, dotted all around these three cities, standing a testimony to the imperial grandeur. The Amer Jeep Safari is one of the exhilarating activities to experience around, which take you to both remote and rural settlements combined with long sandy stretches.  During winter season there are plenty of fairs and festivals to participate and enjoy at this place.
Days 3 and 4 – Ajmer-Pushkar
A holiday guide to Ajmer promises religious places and regal architecture. The mausoleum of Khwaja Moinuddin Chisti is an important place of worship for Hindus and Muslims alike. An 11 kilometre drive from Ajmer will take you to the ancient city of Pushkar, known for its religious significance and rare temples of Lord Brahma(Hindu god).
Circled by some five hundred odd temples, the semicircular Pushkar Lake is believed to be extremely holy. Pushkar is one of the best places in Rajasthan to get some of the exquisite Rajasthani costume jewellery and embroidered clothes.  Watch the camel race and competitions that kick start with songs, music and exhibitions during the annual Pushkar fair held during October – November. Ajmer is surrounded by the Aravalli hills; Pachkund and Pushkar have traditionally had abundant groundwater and wildlife has been plentiful; a treat for birdwatchers.
Days 5 and 6 – Jodhpur
Situated on the boundary of the Thar Desert, Jodhpur is the second largest city of Rajasthan after Jaipur and has been given the name 'Blue City', due to the blue-painted houses around the mighty Mehrangarh Fort. From blue houses and towering forts to reflective lakes, Jodhpur offers delightful scenic vistas all around. Jodhpur is also famous for its magnificent historical monuments, temples and palaces. Some of the major attractions around Jodhpur are Jaswant Thada, Umaid Bhawan, Museum and Zoo. Get the authentic Rajasthani village experience in Bishnoi village. Partake in various activities like Pot making, weaving, block painting, and Bishnoi family visit.
There is much more to Jodhpur; get an exciting and eco-friendly tour around the streets of Jodhpur on a cycle. Ride around the alleys and the fort wall and get to know the different communities and its history. Apart from this, what is also special about Jodhpur is its puppet show.
Practised by the local agrarian communities, with wooden dummy dolls, colourful attires, the puppet show is an amazing way to enjoy an evening in Jodhpur. Another feature and a must thing to do that help complete Jodhpur travel guide is savoring the Rajasthani cuisine which is served widely in the city.
Day 7 – Bikaner
The final destination is Bikaner, before you head back to Jaipur for a flight back home. It might not be as touristy like the rest, the region is adorned with the finest specimen of Rajput civilization. Some of which are now popular tourists attractions  are Junagarh Fort, Gajner Palace, camel breeding farm and many more.
The Karni Mata Temple or Rat Temple of Deshnok is the must-see.
The temple is believed to be the abode of over 20,000 rats. See believers worship these rats and offer prasad to them for they are believed to be the sons of Karni Mata (Goddess Durga).
Explore the wilderness in the middle of the desert, and witness the mesmerizing beauty of the sand at the Thar Desert. Venture into the colorful villages or opt for the camel safaris or desert camping.
Get to witness a spellbinding sunset over the dunes. Spend the night enjoying a ethnic dinner backed with traditional music and dance shows, accompanied by a bonfire.

Happy journey!
RELATED TRIPS
Comments