Ladakh is pretty much on everyone's bucket list – its tall mountains, clear blue skies and miles of untouched land are bound to move even the strong hearted. The scenic views, fresh air and energy in the air will refresh your soul. And what about the body? Pamper it which some local food and drink, there is no way you can be disappointed. Here is a list of ten dishes you must treat yourself with when you're enjoying your Ladakh Holidays .
Tingmo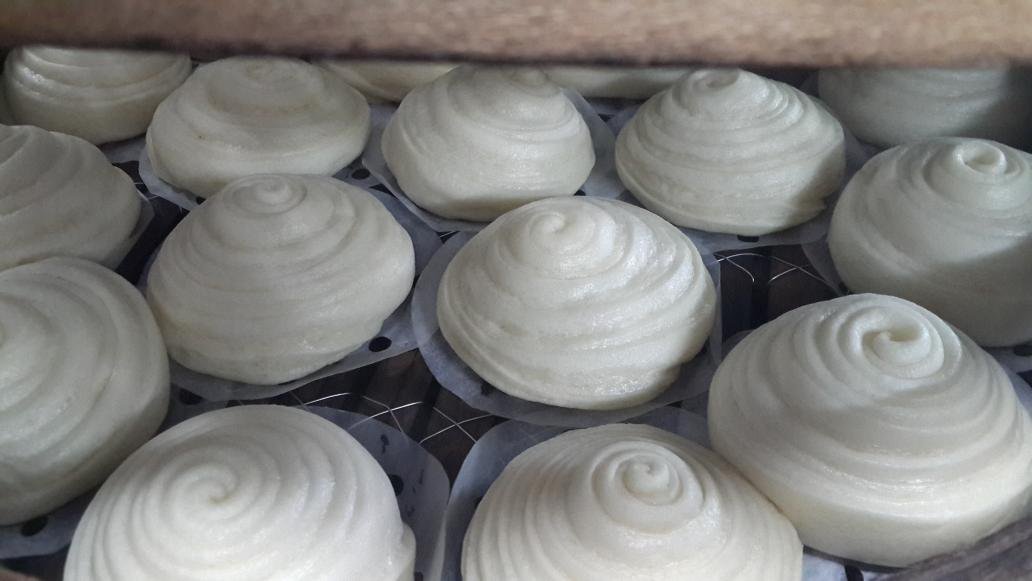 Tingmo is Himachal's answer to bread. This light, fluffy and steamed bun is made all over Ladakh and sold in almost every restaurant and street shop. It can be eaten either as a snack or with a full meal. The bun has multiple layers and is a little chewy but both add to the entire experience of eating it. Pulling one layer at a time and using it to soak in whatever you plan to eat this way. Chilli pork, stew or soups, the list is endless. They come freshly steamed and are extremely hot but that's what gives them their charm.
Momos
There's no way one can talk about What to eat in Ladakh without bringing up Momos. The fun part is, you think you know Momos, but then you try them here and everything changes. Very different from the variations that are now found all over the country, the local Momos are sure to leave you wanting more. These little guys have a thin flour based outer layer that encases all kinds of meat, especially mutton. There are vegetarian options for those who prefer vegetarian food in Ladakh. They're steamed to perfection, packed with local flavours, healthy to eat, easy to find and very cheap. What more does a tourist want?
Skyu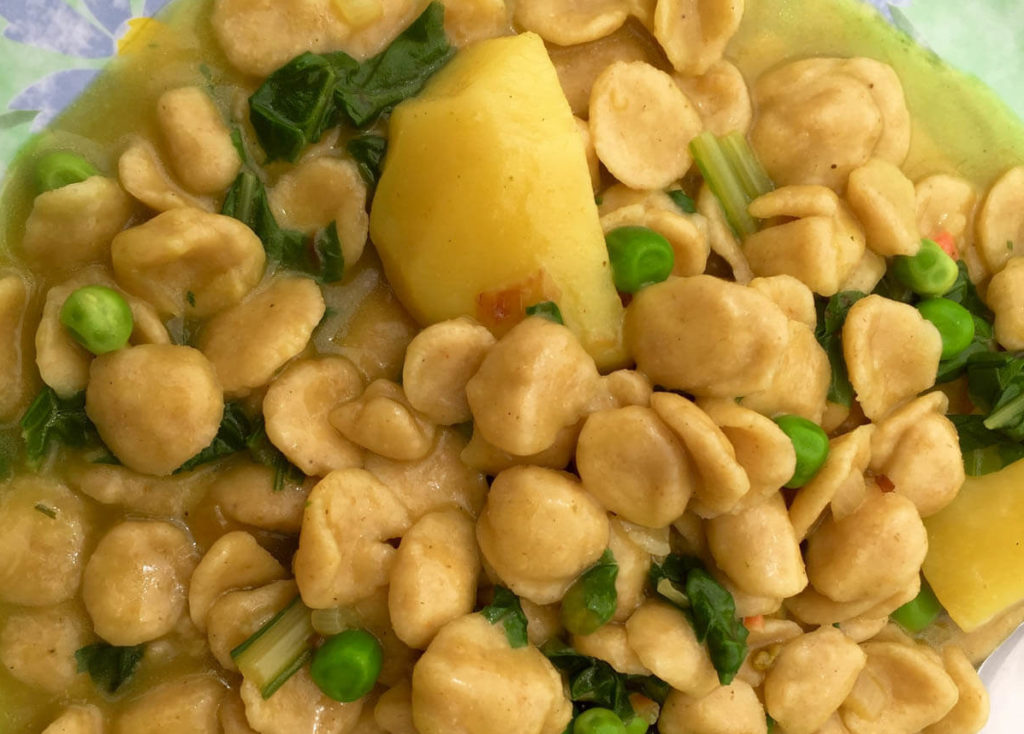 Skyu, a traditional soup dish, Skyu contains wheat balls that are cooked along with vegetables and meat. The soup is filled with lots of root vegetables such as potatoes, carrots and turnips. This is important because the heat keeps the body warm when the temperatures really drop. The soup can be eaten independently but is often accompanied with dumplings or momos.
Paba Thanthur
Paba is a dough made from wheat, barley and Ladakhi black beans. It's heavy but it's a staple in Ladakhi food and is highly nutritious. Many tourists claim it is an acquired taste, which is to say you might not be able to finish it but must give it a shot anyway. It's generally dipped in Thanthur which is buttermilk with a tadka of fresh green coriander, hot oil and jeera.
Chhurpi
Chhurpi is a local cheese made from Yak milk. Yak's live in large numbers in the Ladakh region and are used as a resource for multiple things. Their milk is churned by adding lime to it, when it splits, it is set and left. The process might be slightly complicated but it is a local favourite and so it is very easy to find – in supermarkets and local shops. Homemade versions or processed. Chhurpi can be eaten breads or biscuits. There are three kinds – sweet, plain and salty. The choice depends on what you plan on eating it with, the shopkeeper will only be happy to help you make a decision.
Apricot Jam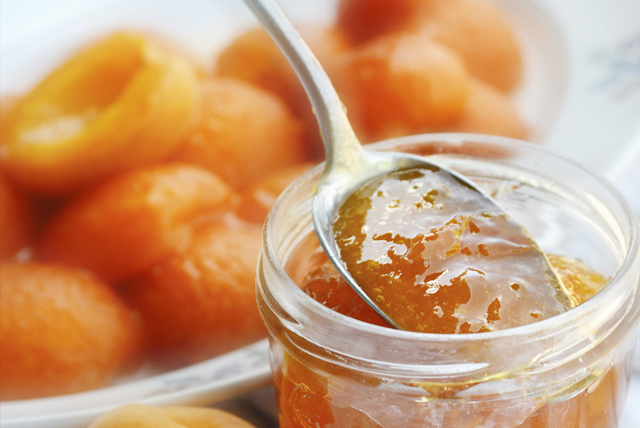 Apricot is grown and produced within the Ladakh district, so it is no surprise that they've done the fruit justice. Ladakh is full of a number of Apricot – based products, such as Dried Apricots, Apricot Syrup, Apricot Juice and Apricot Jam. This jam is a must-try, as it is nutritious, organic and satisfies the sweet tooth. Jams are usually eaten with biscuits or used in backed goodies.
Butter Tea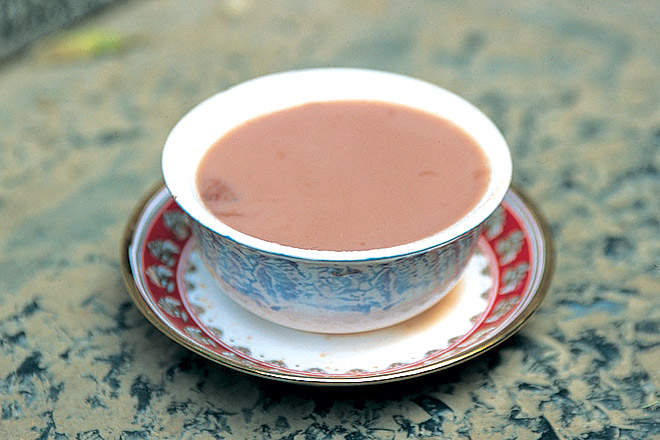 Butter tea is made from green tea leaves, yak butter and salt. Sounds odd? It isn't! A warm cup pf butter tea will slowly grow on you as you sip it looking out at the mountains. It is a popular accompaniment with breakfast in the morning. If you want to do it the right way, drink it in separate sips and after each sip allow the host to refill the bowl to the brim. Thus, the guest never drains his bowl; rather, it is constantly topped up.
Thukpa
Ever heard of healthy comfort food? Turns out it exists. Enter Thukpa, though born in Tibet, thukpa has become very popular among locals in Ladakh. It is a clear noodle soup that has added vegetables and spices. A big bowl is a meal by itself and also since it is warm, it goes perfectly with a chilly winter day. And chilly days are no strangers to Ladakh. There are all sorts of local varieties with different kinds of soup and meat, make it your goal to give them all a shot on your Ladakh Tour.
Khambir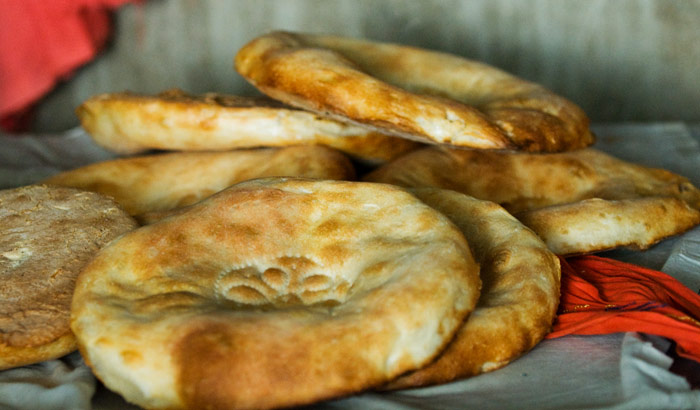 When you're deciding what to eat in Ladakh, pick this local version of bread. Khambir is hard and brownish on the outside and soft of the inside.  Oval in shape and made of whole wheat, this bread can be very filling. It is available practically everywhere and is made freshly at local bakeries in the mornings. It is a popular option for breakfast and it usually eaten with Butter tea, which was mentioned earlier.  Sometimes they even come with a filling of vegetables and spices.
Chhaang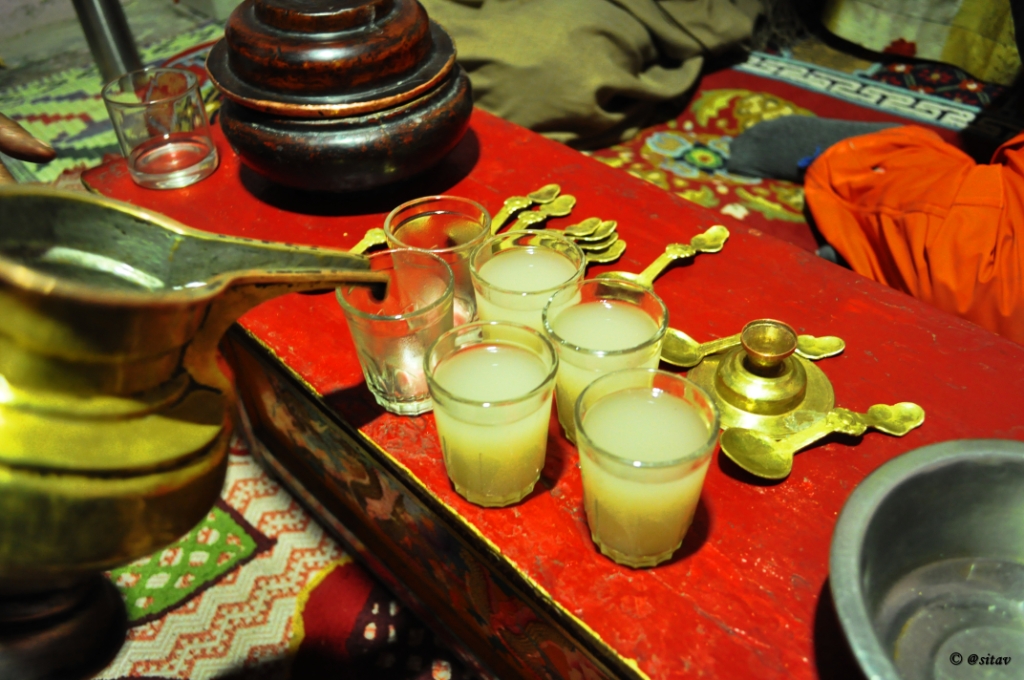 A drink made from fermenting the miller with yeast in a porcelain pot. Mildly intoxicating, not only will it keep you warm but give you a slight relaxing buzz. It is a relative of beer and tastes like ale. Chhaang is said to be the best remedy to ward off the severe cold of the mountains. It reputedly has many healing properties for conditions like the common cold, fevers, allergic rhinitis and alcoholism. According to legend, chhaang is also popular with the Yeti, or Himalayan Snowmen, who often raid isolated mountain villages to drink it.
Thenthuk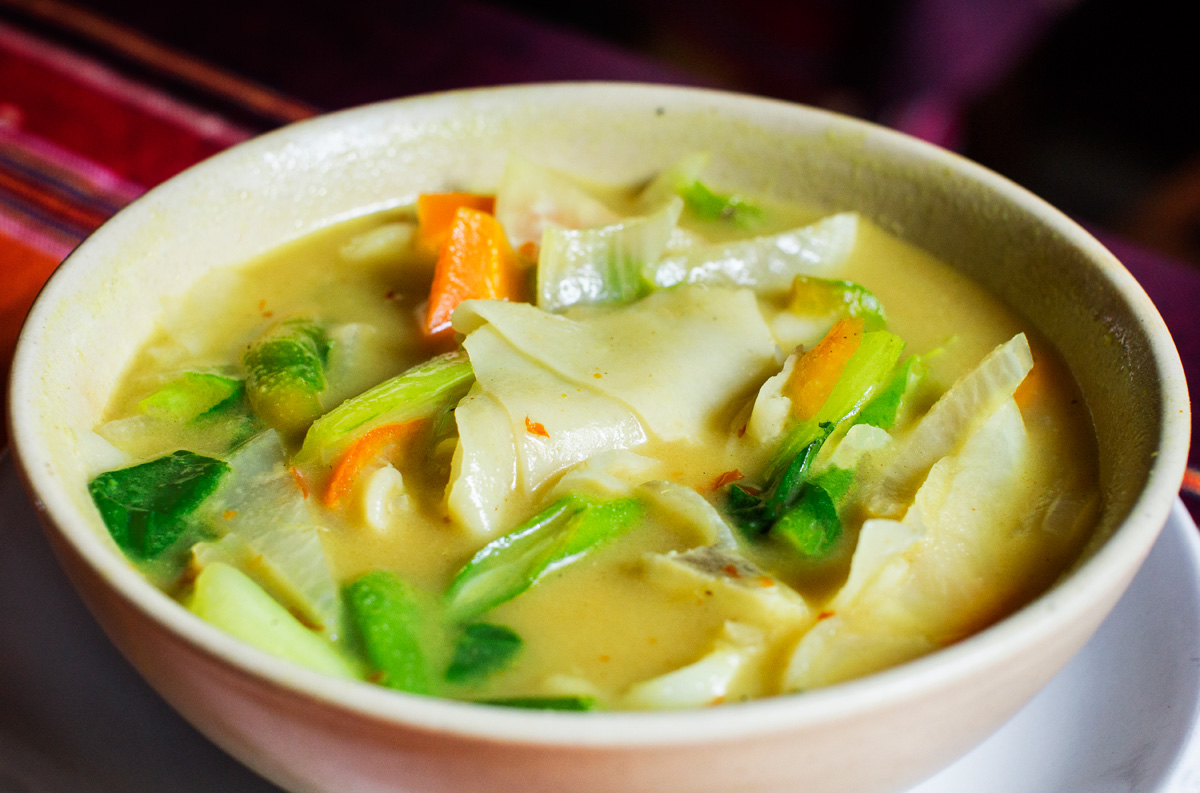 A local variant of the mighty Thukpa, thenthuk is a mixture of dough, meat and broth. It is often described to be warm and filling which makes it perfect for the chilly days. Mutton or yak meat is generally used but vegetarian versions are relatively easy to find. In Tibetan "then" means pull and "thuk" means noodles, due to how the noodle is made for the soup. However, most tourists find thenthuk pretty spicy, so be aware of that before diving into the bowl.

Comments